Student-Athletes and Faculty Battle Each Other in a Volleyball Match
With only a few weeks left in the semester, Penn State Harrisburg faculty and student-athletes had a chance to compete against each other on a warm and sunny Thursday afternoon. For National Student Athlete Day, athletics staff brought together student athletes and faculty from sports like men's and women's basketball, softball, men's and women's soccer, and track and field. 
During common hour, the athletics staff set up activities that student-athletes could participate in. Activities included spikeball, volleyball and cornhole. There was also a bike which was used to make smoothies if someone pedaled. 
Pizza, drinks and free tank tops were provided to those who came. 
The main event was the outdoor volleyball match. Students and student-athletes competed against each other to see who would claim the trophy.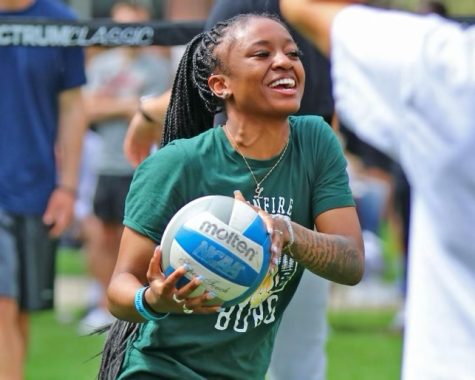 Faculty battled to take the first two sets and asked if the student athletes wanted to play best of five sets. The student athletes accepted the challenge. 
After starting 0-6 in the third set, the student-athletes called a timeout and made a swift lineup change to increase their chances of winning. After a 8-0 run made by the student athletes, they were within one.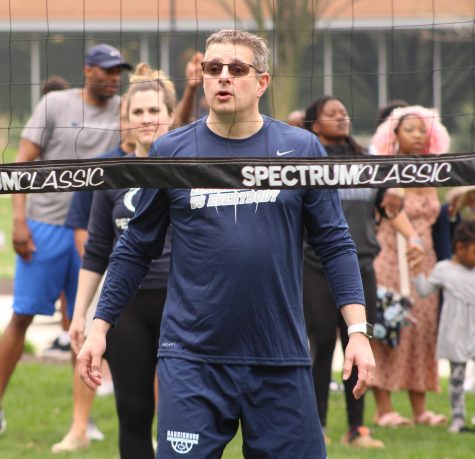 After some back and forth, it was the faculty that proved to be victorious. Through the laughs and occasional trash talk, student-athletes were able to bond with the faculty.
Student-athletes put in hours of hard work on campus for their respective sport and work hard to maintain their grades. Having a day where student athletes were able to be celebrated meant a lot to them. 
"Being a student athlete means that I am an extension of the school's academic values," Greg Acolitse, who throws hammer for the Track and Field team said. 
As spring sports approach their mid-season schedule, student-athletes continue to put in hard work on and off the field. 
To keep with Penn State Harrisburg athletics go to athletics.hbg.psu.edu. 
Leave a Comment