Penn State Harrisburg Places Second in United East Championships
This past April 24th, the Penn State Harrisburg golf team finished in 2nd place out of 8 teams in the United East Championships at Rancocas Golf Club in Willingboro, NJ. The Lions finished with a score of +77, or 77 over par, to end their 2021-22 season, trailing Rosemont by only 7 strokes. 
Individually, all five Lions finished in the top 10 of 40 competitors and Capital College's own Matthew Redman tied for second overall in the tournament with a score of +12. His playoff efforts garnered him a spot on the United East All-Conference First Team. Fellow teammates Joshua Africa, Andrew Fink, and Ian Martin would all shoot 22 over par and tie each other for 7th place while Tiger Xu finished tied for 10th spot with a score of +24. 
Redman wouldn't be the only Blue & White to walk away from the season with an accolade. All four of his teammates; Xu, Africa, Fink, and Martin would earn United East All-Conference Second Team recognitions, which is the most all-conference accolades (5) in a single season for the Nittany Lions. Of course, the golfers couldn't have done it without their head coach Malcom Jackson. With all five of his golfers earning all-conference recognitions, Jackson would be named United East Coach of the Year. 
On the season, the Lions won two tournaments, placing first of eight teams in the Rutgers-Camden Scarlet Raptor Fall Invitational at Rancocas Golf Club back in October and placing first of six teams in the Penn State Division III challenge back in early April. 
With Malcom Jackson coming off a coach-of-the-year-campaign, he looks to return to the helm for the '22-23 season along with Tiger Xu, Matthew Redman, and Ian Martin who will all be returning for their junior campaigns.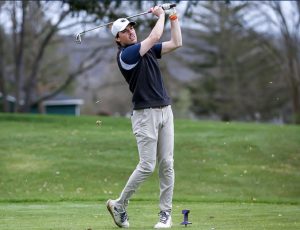 Leave a Comment