Pride at Penn State Harrisburg Celebrates Love
Pride at Penn State Harrisburg hosted the Celebrate Love event on Wednesday, April 27th in the Olmstead Atrium. The event sought to draw all of campus together to celebrate diversity and love along with LGBTQIA+ students and allies. The event was to show the visibility of Pride and diversity on the campus, as well as celebrate Campus Pride Month. Pride Month is celebrated in April at Penn State as the academic year is over by June. The Olmstead atrium was decked out with rainbow balloons and streamers, and students could take photos with Drag Queens, spin a wheel for free pride related prizes, enjoy free food, take free pride flags, and get resources and connections from Counseling and Psychological Services (CAPS). 
Jeremy Boorum serves as the President of the organization which has relaunched this past semester. "I lead all of our monthly meetings and help to work with different student leaders to plan events, and I also serve as a spokesperson for the LGBTQIA+ community at Penn State Harrisburg," Boorum stated. "Next year, since we have been trying to re-launch this semester, we'll be much more active and hopefully have arranged different events and speakers and performances to showcase our community here," he said.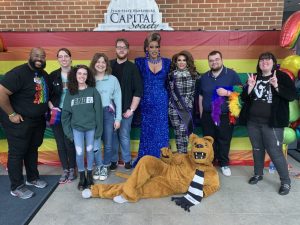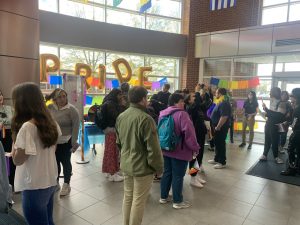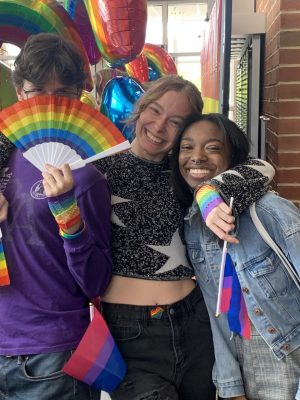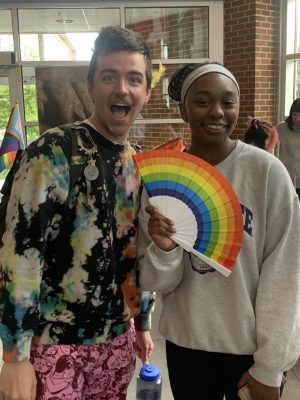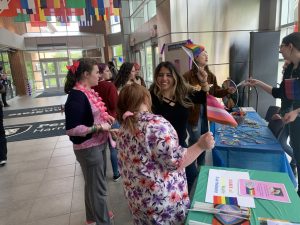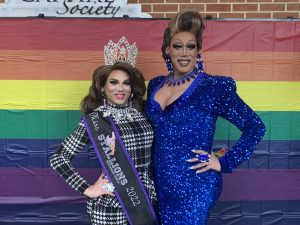 Boorum feels that other students are excited about these events. "The students are very excited and supportive to participate in these events and the meetings that we have been having once a month. The students have really enjoyed connecting with one another and have been having different opportunities to connect every week and build those friendships that they might not otherwise be able to without a student organization," he continued,  "Pride at Penn State Harrisburg provides that platform and the students are eager and excited to feel that sense of community on campus." 
Pride means a lot to Boorum. "Being someone that's in the LGBTQ+ community, it can be very isolating, and just having that sense of community and really fostering that is just so important and we are building that brave space here for members of our community, what Pride means to me is just that sense of community and building that space on our campus." 
Club advisor Evan Williams is excited to see Pride on the campus."I am recently new, started in September, this is Pride at Penn State Harrisburg's first program for spring 2022 and they have recently just been reactivated this semester due to COVID, and we want everyone to be on the lookout for more programs in the fall semester," Williams said. "As far as today, I think there was good representation seeing the campus community interacting with and being in community with our student organization acknowledging and representing LGBTQ+ and our allies. I think that is a clear representation that our students, our faculty, our staff, and our administration supports," Williams stated. 
"Pride means to me is being able to be your authentic self either when no one is looking or when somebody is looking," Williams stated. The Celebrate Love event was a success on campus, and the student organization is looking to host more events next fall. Interested students can reach out to club president Jeremy Boorum [email protected] for more information.
Leave a Comment