A PSH Student's Guide to University Park
With the start of fall comes the beginning of college football season. Even if you're not a football fan, it can be fun to keep an eye on Penn State's scores. But witnessing a Penn State Football game is an experience better experienced than described, and, of course, going to a football game means traveling up to University Park, located in State College, PA. University Park can be daunting when compared to the Harrisburg campus, but there are some ways to make your experience easier.
While at State College, there are a number of buildings and locations available to see. Of course, Old Main is the star of the show, being one of the most iconic buildings at University Park. Right next door is the HUB-Robinson Center, known simply as the HUB. The HUB is comparable to Harrisburg's SEC, housing a number of eateries and student common spaces. A number of free museums, such as the Arboretum and the Palmer Museum of Art, are scattered around the campus, as well as a number of exhibits in the Pattee and Paterno Libraries.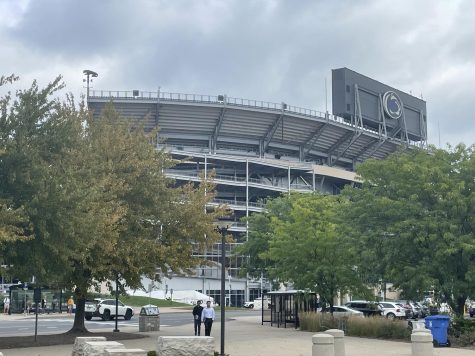 If you're going to a sporting event on campus, there's a good chance it's being held at one of three locations: Beaver Stadium, Pengula Ice Arena, or Bryce Jordan Center. All three of these buildings and other sports fields are close together on the far side of campus. The sports arenas are also conveniently located just down Curtin Rd from the Berky Creamery, which serves the famed Penn State Creamery ice cream, as well as other savory and sweet treats.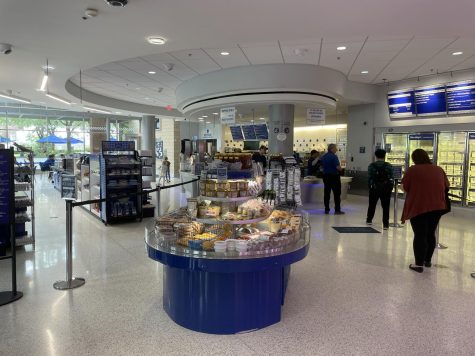 With University Park being multiple times bigger than the Harrisburg campus, the thought of transportation around campus might be daunting, but visitors have options. Of course, walking is the main form of transport, but it can get tiring quickly, especially if locations are on opposite sides of the campus. If you're bringing your car, there are places to park, but those can be few and far between. Luckily, University Park does have a few free shuttles available for students and visitors. The Blue Loop, White Loop, and Red Link make stops at or near the more recognizable locations on campus and circle their respective route in 15-20 minutes. Visitors can use the myStop app to track routes and buses while at University Park.
Being on campus for more than a couple of hours means that, eventually, food needs to be acquired. Luckily, State College has a variety of places to eat. University Park alone offers over 30 eateries, and there are more options in downtown State College. All on-campus locations accept Lioncash, even if it's from another campus, and Penn State Eats is available for most on-campus eateries as well. The HUB is the main place to find food on campus, with well-known food chains like Panda Express, Burger King, Subbarao, and two out of the multiple Starbucks on campus. Off-campus, downtown State College also offers a number of options for food and entertainment. Familiar names such as Duck Donuts and Five Guys are available, as well as less familiar restaurants like Big Bowl Noodle.
If you're going up to University Park for a specific event, like a football game, be sure to get to State College early, if possible. Purchase your tickets in advance and have them on your phone for easy access and, if you're sitting in a student section, be sure to have your ID as well. Check the Beaver Stadium bag policy as well before you leave. Once you get to the event, stick with your group as much as possible and get to your seats quickly.
And all this is just the tip of a massive iceberg! Overall, University Park is a beautiful campus, whether or not you visit for a game. And many of the amenities at University Park can be utilized by Penn State Harrisburg students, such as the Sokolov-Miller Family Financial and Life Skills Center. Penn State Harrisburg students can also access most materials from the University Park libraries on campus by visiting libraries.psu.edu.
Leave a Comment