Swimming Cancer Goodbye
For the past ten years, Holly Maitland-McKenna would be the only other swimmer at Swim For A Cure. This year something was bound to change. Swim For A Cure 2.0 was an idea by McKenna herself, bringing people from all over the campus, including people who wanted to swim by themselves. There were also students and faculty from different clubs and sports on campus to come and swim with Holly. 
McKenna has been a well known swimmer at Penn State Harrisburg as a professor at campus teaching swim courses. She originally came to Penn State Harrisburg from University Park not knowing about THON. Once finding out about the organization, she took her passion for swimming and turned it into an event. She started out swimming for 15 hours then went big for her 10th and did 46 hours. With this year being the eleventh event, change was in the air.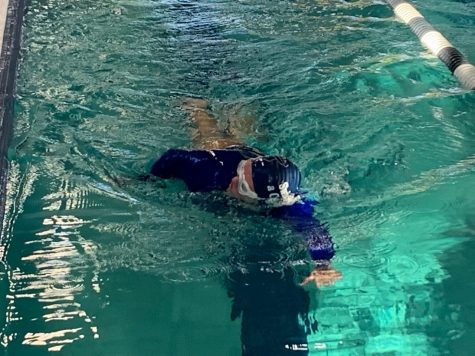 "The event is a little bit different from what I have done the past ten years, which was me swimming," McKenna stated. "This year thinking outside the box we decided to do solo swimmers and relay teams. I was looking for 46 individuals or teams to come swim for one hour and raise 460 dollars. We had 18 lanes filled so that's a great start and every year we hope it gets bigger and better." 
Throughout the day, up to 50 participants swam with Holly. As people came to participate, swimming was not the only option. Each solo swimmer, team or organization could swim but there were also inflatables for the participants to use and they could walk in the water as well. 
"Overall I think it was a really fun experience," Rafael Martinez, Holly's main swimming partner stated. "For me the first hour was the hardest and the most challenging. At the end of the day it was for the kids so that was my motivation overall and just seeing everybody else swim was very motivating. I am definitely looking forward to next year trying to get more people. Overall it was a great experience." 
McKenna has a huge passion for THON from doing the swim and for her family. "They just do wonderful things for all of our students at Penn State no matter what campus it is, great fundraisers for the kids as they say. It means a lot to me because two of my swims – one of my family members got cancer, a little girl and she's a four diamonds child and we are very pleased with all the care that she received…I am happy to be able to raise money and help a little for all the kids."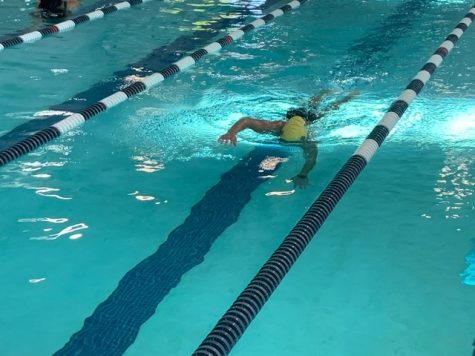 For any students and organizations that missed out on the swim, another swim is scheduled for January. The event so far has raised over $35,000 and people can donate up until THON weekend on Friday February 17, 2023. To make a donation people can go to the donor drive link https://donate.thon.org  It's For The Kids!
Leave a Comment