PSH Volleyball Fall 2022 Recap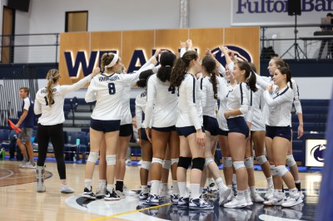 In Women's Volleyball, The PSH Lions 2022 campaign came to a close on Saturday, October 29th. The Blue & White traveled to Penn College to compete in a tri-match against the hosts and United East foe, Lancaster Bible College. PSH defeated the Wildcats in four sets with respective scores of 25-9, 24-26, 15-25, and 18-25. However, the Lions fell to the Chargers later in the day.
Tiniira Tubo had 24 kills while Olivia Koicuba  tallied 36 digs during the day. Alyssa Snyder finished with 56 assists after the two matches.
The volleyball team finished 14-11 overall, going 4-4 in conference. Anna Ruff and Alyssa Snyder earned United East All-Conference second team recognition for their efforts this season.
Leave a Comment