Lions Win Twice on 'Consent Matters' Day
The Penn State Harrisburg men's and women's basketball teams defended home court on Valentine's Day, defeating Penn College in a conference doubleheader. The games were highlighted by the Consent Matters initiative, as players, coaches, and fans alike sported t-shirts to bring attention to campus events aimed at raising awareness for sexual misconduct issues.
The women's game kickstarted the evening by extending their win streak to three. They easily handled Penn College 59-43 and were led by an 11-point effort from star guard Jayla Galbreath. Program-leading scorer Kendis Butler chipped in six points and seven rebounds of her own, and Bailey Oehmig and Giahny Correa added nine and eight points, respectively. After digging themselves into a 10-2 hole early, Butler hit a pair of big threes early in the 2nd the Lady Lions went on a 22-2 lead beginning just before halftime.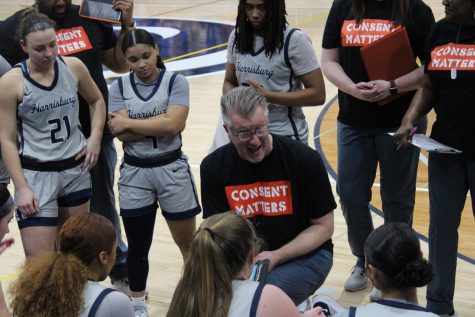 Penn State Harrisburg was dominant on both sides of the ball, as they won the turnover battle 32-15 and scored a whopping 21 points off turnovers. When asked about why the defense was so smothering, Oehmig said that even though they're already postseason-bound, their mentality has remained the same.
"We're coming into every game wanting to play as hard as we possibly can," she said. "We know we're not done yet, and just because we've clinched a playoff spot doesn't mean we can start playing relaxed."
Later in the evening, the men's team picked up right where the ladies left off, holding off Penn College 70-62 despite a late-game surge. The Lions have won six games in a row, and guard Nate Curry continues to act as the engine. Curry put up a monster double-double of 11 points and 18 rebounds, and freshman guard Chase Robinson led the team with a 12-point performance. Guard Zegary Scott III tallied eight of his own, and he needs just eight more to get to 1,000 career points. The Lions benefited from a particularly impressive showing from the reserves, as the bench put up 23 points to complement the starters.
With coaches, players, and fans alike sporting the black and red "consent matters" t-shirts all across the Capital Union Building, it was clear that these games were about more than just basketball. According to Penn State's official website, the Harrisburg campus has been holding Consent Matters events since the fall, with the Penn College doubleheader the latest initiative. The website advertised the game by offering a free t-shirt to the first 50 students in attendance. Oehmig said that the games held special significance to both her and the rest of the team.
"This means so much. Having this game to represent such a special issue and getting a chance to play and have people watch us raise awareness is so cool."
For more Penn State Harrisburg sports news, visit https://athletics.hbg.psu.edu/landing/index.
For sexual assault resources, visit https://harrisburg.psu.edu/safety-police-services/sexual-assault-resources.
Leave a Comment