Men's and Women's basketball clinch playoff berth after program sweep of Gallaudet
Both men's and women's basketball programs continued their road to playoffs on Saturday afternoon against Gallaudet. The men's team is tied for second in the United East meanwhile the women's team is one game away from taking third place. 
The path hasn't been easy for either team. With both teams dealing with injuries and some setbacks, they both pushed through and are looking at a playoff run. 
Saturday was also Penn State Harrisburg's alumni day where former players came in to watch the current team dominate. 
 The women's team did not hesitate to build on their momentum. They started their game off with possession and a quick score by Kendis Butler. 
The first half of the women's game was all Harrisburg. Sydney Hemler hit a buzzer beater three with the assist coming from Makayla Claggett.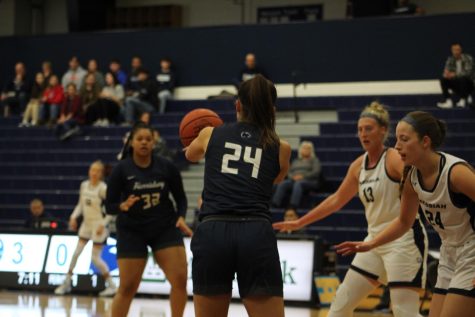 The score was 37-22 Harrisburg at the half. Harrisburg continued to dominate the game going into the final stretch. 
Freshman guard Bailey Oehmig finished with 14 points and senior forward Olivia Richardson finished with 12 of her own points along with five rebounds. 
The men's team was on deck for the next match up. Getting back to the post season was on the minds of the defending United East Champs.
The lions dominated for the entirety of the game. At the half, the score was 46-24 Harrisburg.
As the teams came out for the second half of the game, Harrisburg let Gallaudet come close but a hot hand from junior guard Malik Holland squashed the hope of the Bison taking over the game. 
Holland was 8-11 three's made and was close to breaking the school record for most made threes in a game. He finished with 24 points overall. 
The final was 96-68 Harrisburg. 
Both teams head into the postseason this weekend. The men will play against Penn State Abington at Lancaster Bible at 7:30pm meanwhile the women will travel to Morrisville to play against St. Mary's at 7:30pm.
Keep up with the playoffs and all athletics at athletics.hbg.psu.edu. 
Leave a Comment