Harrisburg Splits Softball Doubleheader With Juniata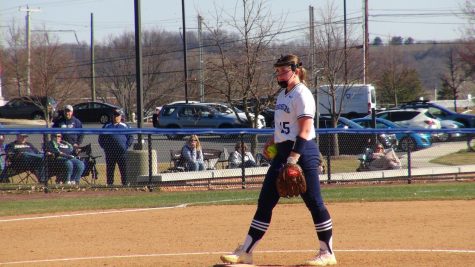 After eight straight away games to open the 2023 spring season, Penn State Harrisburg's softball team finally got a chance to defend the home diamond on Thursday. The team played two games against the Juniata Eagles, and while they dropped the first game by a score of 10-1, they showcased their trademark resilience with a 2-1 victory in the second.
Harrisburg's first game spiraled out of control rather quickly, as Juniata jumped out to a 7-0 lead in just four innings. In the fifth, pinch hitter Madeline English helped the Lady Lions avoid a shutout by scoring an unearned run off a Jocelyn Bennett RBI. However, Juniata scored thrice more in the fifth, as well. Harrisburg couldn't trim the lead to under eight, meaning that Juniata won in a five-inning setback. Juniata finished the first game with 12 hits and 8 RBIs, while Harrisburg managed just 2 hits and 1 RBI. Outfielder Lauren Hess picked up Harrisburg's only other hit during the game.
Despite the opening performance, Penn State Harrisburg played much tougher in the second half of the doubleheader, and the Lady Lions continued an impressive 2023 run of never losing two games in a row. Harrisburg got going quickly in game 2 as shortstop Madelyn Lehigh picked up a single in the bottom of the first. She then scored later in the inning off a triple from first baseman Steph Reider.
Juniata tied the game in the top of the third, and for the next four innings, both teams were and a standstill. Penn State Harrisburg's outfield made a few excellent plays to keep Juniata at bay, and pitcher Kierstyn Smith shut down every batter she faced for the last five innings. Extra innings got going when the game remained tied, but in the bottom of the eighth, DP Leah Macaluso popped up a sacrifice fly to bring Reider home from third, and Penn State Harrisburg pulled out the nailbiting victory.
"We kept our heads up after the first game," said Lehigh at the end of the doubleheader. "We stayed happy about things, forgot about the first game, and didn't get too down on ourselves."
According to PSH Athletics, Smith secured her first career victory in game 2, and the Lady Lions advanced to 6-4 on the season.
Penn State Harrisburg returns to action in an away doubleheader against Elizabethtown on March 21, and they get their first taste of conference rivalry action when they play Penn State Abington on March 25. They don't play at home again until March 31 against conference rival Wells.
Leave a Comment