THON hit the stage at Stacks as they held "Pie A Person". "Pie A Person" is a fundraising event where people can have a good time while raising money for patients with pediatric cancer. 
At the event, students along with a professor joined in on the fun. They went up onto the stage in Stacks, put on protective gear, which included a cover with a hood and safety goggles. This allowed for protection of their clothes and eyes. For the participants to get pied in the face, the cost was three dollars. Once the money was received for the participant, they were eligible to get a pie thrown in their face.  
One student participant Fabian Vantassell got pied five times and felt happy to help out the cause. "It feels amazing to support an amazing cause like THON, contributing and supporting efforts to defeat child pediatric cancer." he stated. 
 With student participants even Professor Dave Willamson PhD who teaches Kinesiology 200, 350, 358 along with Exercise Physiology 350 on campus got up and took pies to his face. 
"I think it's awesome to support THON, cancer, and cancer research and the student organization. I think it's also a good time for our faculty and staff to basically give back to the students and allow them to shove pie in our faces. It's awesome." Willamson stated.  
Lauren Six, PSH THON Co-Overall, enjoyed the event, and she was pleased to see the Penn State Harrisburg community getting involved and helping out. 
"The main goal was to raise money for pediatric cancer patients and their families. We also get the PSH Community more involved in our organization." Six stated. 
Six not only attended the event with PSH's THON organization, but she also participated in the event. 
 "I participated because it's fun and I love THON," she added. 
Mackenzie Marker, PSH THON President, was happy with the outcome of the event. 
"Our event had selected volunteer members or professors and other students who come out, and they volunteered to get pied in the face, via donation from students or whoever is willing to donate to the person," Marker said.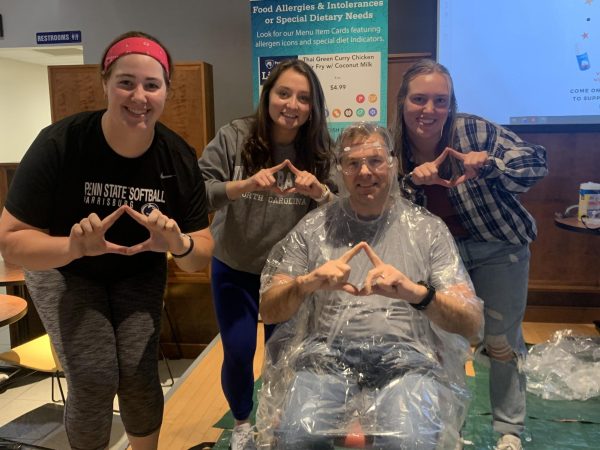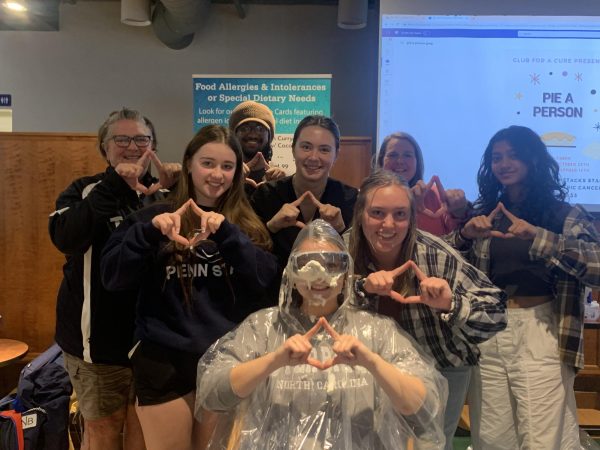 All the profits for the event goes to the Four Diamonds organization. The organization partners with THON to help raise money for children with pediatric cancer. "Pie A Person" raised a total of 108 dollars. Another "Pie A Person" event is scheduled for November 15. As always, It's For The Kids!