Local Artist's Art Displayed in Olmsted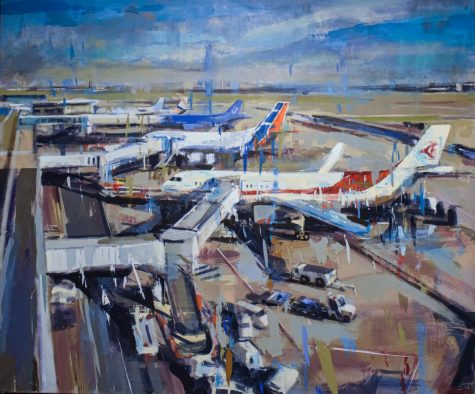 A Penn State Harrisburg professor will display acclaimed artwork in the Olmsted Building this fall. Jeffery Bye will be displaying his paintings from October through December in the Olmstead Building's central hall, next to the Chancellor's Office. Looking forward to the show, Bye stated, "I would be happy to have my paintings exhibited next to the Chancellor's Office."
In addition to his show on campus, Bye's artwork will be on display at The Edgewater Gallery in Middlebury, Vermont from October 8 through the end of the month. This solo show will be getting a feature in three national art publications: Art New England, American Art Collector, and Fine Art Connoisseur Magazine. Having lived in Brooklyn, New York for 15 years, his paintings are known for "capturing and preserving images of our country's urban decay as well as the people who inhabit the environments," according to his artist bio.
Students are looking forward to the art display. Sophia Seltzer, a first-year student, explained, "As a Painting 1 student, it will be exciting to see such artwork displayed…its inspiring and a reflection of the importance of art on our campus." Second-year student Nico Acajabon added, "It will be nice to be able see art on my way to classes instead of just average building."
Bye earned his undergraduate degree from The Rhode Island School of Design and spent a year abroad in Italy under the European Honors Program. He earned his Master of Fine Arts at The New York Academy School of Figurative Art. At age 26, Bye was given his first solo show and became the youngest Master within the Copley Society of Boston.
Currently, Bye explains, "I am excited to be back in person teaching for Drawing I." The work of his students can be viewed on the third floor of the Olmsted Building.