Penn State Harrisburg Baseball Dominates Wells College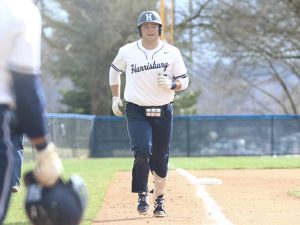 The Penn State Harrisburg baseball team completed a three-game sweep against United East Conference Rival Wells College this past weekend. The (7-10) Lions may be off to a slow start, but their offense exploded for a total of thirty-six runs in their series against Wells.
In their first game of the series this past Friday, the Lions would rack up thirteen hits, four of them being doubles, and six stolen bases. The offense was led by Brennan Henn who went 3-for-4 while scoring three runs and collecting an RBI, Kevin Lehner who went 2-for-4 with a run scored, and Chase Smith who finished the game going 2-for-5 with a pair of RBIs, two runs scored and six stolen bases. The Lions would score ten runs in their first game and with clutch pitching would hold Wells College to just two runs.
"In the end, pitching is what separates good from great." -Head Coach Ryan Bown.
Drew Harshbarger, who was recently named United East Pitcher of the Week for his 9-strikeout performance against Penn State Abington, put on a stellar performance by striking out a season high 10 batters while only allowing one earned run. Relief pitchers Simeon Davis and Roberto Barron would finish the game with three scoreless innings and four strikeouts.
The Lions continued their dominance over Wells College in their Saturday double header to end the series. In the two games they scored twenty-six runs while only allowing five.
"Things are starting to click. It definitely feels good to start winning games like this. We just have to keep it rolling now." Pitcher Joel Sneeringer.
In the first game of the double header, second of the series, the Lions defeated the Express by a score of 10-1. The offense was led by Maddux Ryan who went 3-for-3 with a pair of RBIs, Dallas Hite who went 3-for-4 and led off the game with a solo homerun in the bottom of the 1st, Lehner who collected his own solo shot to left field, and Smith who hit a 2-run homer in the bottom of the sixth. Zach Getty's put together another strong outing, only allowing one run and two hits, earning a win while striking out six.
In the final game of the doubleheader and series against Wells College, the Lions would again enter double digits beating their rivals 16-4. Hunter Merritt got the start in the final game this past Saturday and tossed five innings of work allowing no earned runs while striking out six.
Pitching is what separates good from great.
The offense, however, would rake for seven extra-base hits with two of them being homers from Hite and Matt Isaac. Matt Parks, Hite, and Henn would all have multi-hit outings in the final game of the series leading to the twelve-run route of the Wells College Express.
The Penn State Harrisburg Baseball Team looks to play at Penn College on Friday, April 1 at 3:30 p.m.
Leave a Comment