Cherry Blossoms in Full Bloom
This spring, Penn State Harrisburg students were given the chance to experience a glimpse of the National Cherry Blossom Festival. 
The National Cherry Blossom Festival is from March 20th to April 17th in Washington, D.C. The four-week festival highlights the coming of spring and the 1912 gift of 3,000 cherry trees from Mayor Yukio Ozaki of Tokyo. Today, more than 1.5 million visitors come to various festival events from sake tastings to cultural performances that serve to honor "the enduring friendship between the people of the United States and Japan" and promote "traditional and contemporary arts and culture, natural beauty, and community spirit" according to the festival's website. The festival explains that the cherry blossom trees "currently grow in three National Park Service locations: around the Tidal Basin in West Potomac Park, in East Potomac Park (Hains Point), and on the Washington Monument grounds."
This year's festival celebrated the 110th anniversary of the trees arriving in the United States. Penn State Harrisburg provided free bus trips to Washington D.C. on March 26th through the Programming and Activities Committee (PAC) and on March 27th through the Student Initiated Fee (SAF). Students were dropped off at the Washington monument to freely explore the city and events. These dates, the last weekend in March, coincided with the festival's kite weekend, so students got to experience plenty of kites soaring around the Tidal Basin.
Second year student Anna Shank attended the March 26th trip and enjoyed getting to see the blossoming trees. "The cherry blossom trees were beautiful—the pale pink hue of the blossoms really popped against the white buildings and brown, leafless trees in the background," she continued, "What a lovely sign from our nation's capital that spring is blooming!" Second year student, and D.C. resident, Nico Acajabon attended the March 27th trip. He explained, "As a kid growing up in DC, I've gone to the Cherry Blossoms multiple times whether with family or friends. It's a staple to the National Mall inviting in the spring. The trees' rich history and the bond of friendship between the US and Japan represented is a wonderful way to welcome in the spring." 
In a simple ceremony on March 27, 1912, First Lady Helen Herron Taft and Viscountess Chinda, wife of a Japanese ambassador, planted the first two gifted trees on the north bank of the Tidal Basin in West Potomac Park. The United States returned the gesture in 1915 with a gift of flowering dogwood trees for Japan. This simple ceremony expanded to a two-week festival in 1994 and has continued to expand to what it is today since then. Individuals looking for more information about the festival can go to nationalcherryblossomfestival.org or contact the festival directly at [email protected].
Students interested in attending other PAC or SAF trips can view and register for upcoming events on the Penn State Harrisburg Engage webpage.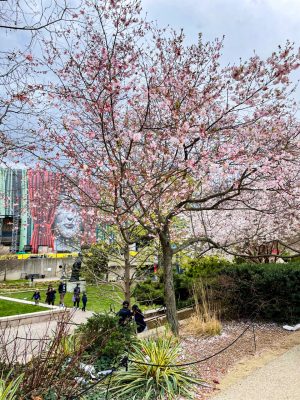 Leave a Comment