Broadcast comes to PSH
Penn State Harrisburg student media practicums has just released the third episode of Nittany Watch, a news show by students, for students.
Nittany Watch, a news show put together by students in COMM 1, 2, 3, and 4, and overseen by Dr. Robert Nulph, keeps students updated on news and events at Penn State Harrisburg and the surrounding region of Middletown, Harrisburg, Hershey, Hummelstown, and more. Co-hosts Mitchell Carson and Brianna Parnell-White introduce various news packages, such as a THON recap or a detailed look into Middletown's new Amtrack station, before the program turns to Casey Blask for his campus-wide sports report. The entire production, from the recording, scriptwriting, package creation, and editing, is completed by students. 
For advisor Dr. Nulph, who has taught broadcast, film and digital production, screenwriting, and photography for 30 years and advised student media programs for 20 years, Nittany Watch is an integral part of students' communications education. "The addition of the broadcast magazine show Nittany Watch gives the students an opportunity to really practice convergence in that everyone in student media works with all forms of media, not just print or broadcast," Nulph stated. "We want to ensure our students are ready for the real world of journalism which requires they be able to write, shoot photographs and video, edit both and tell good journalistic stories." As a part of student media practicums, news-writing students will learn how to shoot professional interviews, and camera-savvy students will learn to write solid articles. Staff reporter Matthew Wynkoop had no experience working with shooting equipment and video creation before enrolling in COMM 1. Matthew explains, "Joining the student media has provided me with a great opportunity to expand on writing skills while also presenting some new opportunities for me, such as operating a camera/tripod and putting together video packages. I had done either of these things before, but the student media has provided with the knowledge I need." Echoing Dr. Nulph's goals of convergence, Matthew continues, "I am majoring in Communications, so this was the perfect class for me to take. With it being such a broad major, it is imperative and necessary to have knowledge in every aspect of media. The student media allows me to fulfill this necessity. I look forward to building upon my writing skills in the coming semesters and improving my camera and video skills."
Now, just three episodes in, the faces of Nittany Watch feel the show is already preparing them to reach their future goals. "I think being a part of Nittany Watch and The Blue & White Journal has made a big impact on me. I have always had a passion for News and I started before even starting Penn State Harrisburg," explained Co-host Mitchell, "being part of this media production that just launched is such a thrill and this is definitely going to help me get toward my big goal of being the head Anchor on NBC's The Today Show." His co-host Brianna added, "Hosting Nittany Watch has really helped me become more comfortable in front of the camera, and that's great because I essentially want to be an influencer. It has also helped me enunciate more. I didn't realize at first, but I talk really fast and being a host has really helped me slow down and become more understandable."
Episodes 1, 2, and 3 of Nittany Watch can be found alongside student media practicums' other publications at the practicum's website, pshblueandwhitejournal.com, or the Nittany Watch YouTube channel. Students interested in getting involved can enroll in COMM 1, 2, 3, or 4, or reach out to Dr. Robert Nulph at [email protected] for more details.
The fourth and final episode of Nittany Watch will be released on the website and YouTube during the week of May 2nd, finals week.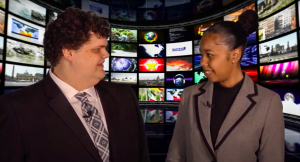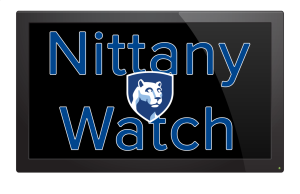 Leave a Comment