PSH Scares with "Little Shop of Horrors" Musical
The Penn State Harrisburg School of Humanities is presenting "Little Shop of Horrors," a musical about Audrey II, a blood thirsty plant, and the drama and mutual pining between the plant's owner, Seymour, and his coworker and the plant's namesake, Audrey. The musical will be performed at 7:30pm from Wednesday, April 6 through Saturday, April 9 in the Student Enrichment Center's Kulkarni Theater. There will be an additional performance taking place on Saturday, April 9 at 2 PM that is "a sensory friendly performance" that will benefit those on the "autism spectrum or with other developmental or cognitive disabilities or sensory sensitivity," per Penn State Harrisburg's article on the event. 
The musical is directed by Maria Enriquez, an Assistant Teaching Professor of Theatre at Penn State Harrisburg and the music is directed by Genevieve Karki, an adjunct professor at Penn State Harrisburg. The book and lyrics for the original play are by Howard Ashman, and the music is provided by Alan Menken.
Cast and crew have been rehearsing for months to prepare for these performances. One of the actresses, Myah Koepfer, gave her input as to who her character is, saying, "I play Audrey, she's a blonde bombshell…she works in a flower shop, but she's a little bit ditzy." Myah added "that it's been a lot of fun" but has also been an "intense process." She believes "the product is well worth the intensity."
The PSH community can see Myah and her fellow cast members perform in "Little Shop of Horrors" by purchasing tickets for $5 at the box office. Tickets are $10 for audience members that are not students, staff, or faculty of Penn State.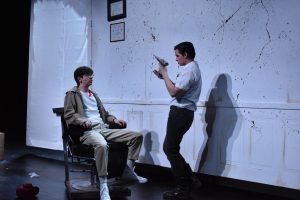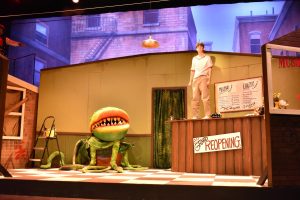 Leave a Comment