Women's and Men's Tennis Wrap Up
Women's Team
Tennis has lost its season due to the seasonal temperatures, but do not worry, both Men's and Women's Tennis will return in the spring. The Women's team ended the season with two wins and two losses. Their last two matches resulted in team losses for the Lions, these came against Lebanon Valley College and Misericordia University. The Lions won two of three against the Flying Dutchmen in doubles play. The duo of Olivia Bandini and Breanna DeSantis won the No. 1 matchup 8-7 (7-3). It was then followed up by Nizaly Ortiz-Kreiner and Sophia Bandini winning in the No. 2 spot 8-3.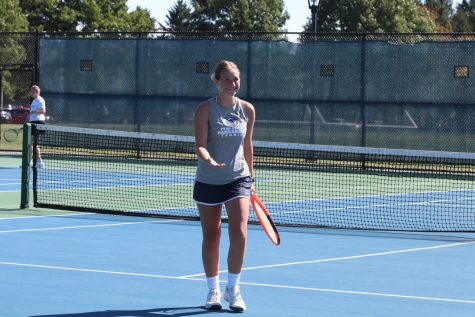 The singles action is where LVC took advantage. Sophia Bandini had the only singles win when she won the No. 4 matchup in three sets 2-6, 6-1, 6-2 versus LVC's Haas. Both Bandini and DeSantis won their first set, but the LVC players would adjust for the next two sets winning each. PSUh would go on to be defeated in the match 6-3. 
The Lady Lions would then travel to Misericordia for their next match on Oct. 9th. Some notable stats from that day include the duo of Sarah Shaub and Gabrille Sabatose winning a close match against Misericordia's duo of Cridge and Denderavich. The final of that match was 8-6. Sophia Bandini secured the only singles win for the team as the Lions lost 2-7. 
This young team has a lot to look forward to for their season starts again in the fall. Their next game will be March 24th as they go to Kutztown.
Men's Team
Both the Men's and Women's Tennis teams play a mirrored schedule, meaning that they also played LVC and Misericordia to round out the fall season. LVC had the Lion's number for the match. The duo of Andrew Schreck and Nick Rohn played in the day's No.1 spot. They played really hard just to come up short 5-8. The same was true for the pair featuring Rishikesh Singh and Evan Stillwell as they played well, but could not put away LVC's Beck and McLucas. The team would lose 9-0.
The fortunes would flip for the Men's team as they would go on to sweep Misericordia 9-0. This means all the players won their matches. Nick Rohn and Andrew Schreck got right with a close doubles match, with a 6-8 victory. Zijun Ou would dominantly win his sets 6-3 and 6-2. Derwin Merca also would win his matches big with 6-2 and 6-1 victories. 
Tennis is the opposite of a cold weather sport, so the team will return in the Spring. The young team definitely learned a lot this Fall season and will carry that experience into the Spring.
Leave a Comment