Super Bowl Makes History
Super Bowl LVII made history in more ways than one on and off the field. A Sunday night football game became historic for the African American community. 
Although it was the first game where two brothers, Jason and Travis Kelce, played against each other and the first performance by Rihanna in years, it was the quarterbacks who made history.
Super Bowl LVII was the first super bowl where two African American quarterbacks started against each other. Jalen Hurts of the Philadelphia Eagles and Patrick Mahomes of the Kansas City Chiefs squared up against each other for a thrilling night. 
According to The Gist, Hurts became the first quarterback with two plus rushing touchdowns and a touchdown pass in one Super Bowl. Mahomes was highlighted as being a two time NFL MVP, two time Super Bowl MVP and two time Super Bowl champion. 
The quarterbacks' accomplishments highlight the evolution of the quarterback position which was historically only held by white athletes. Black athletes were deemed not intelligent enough to start or play in that position in the early years of football. They were pushed to play in positions that seemed to not involve as much intelligence like wide receiver. 
Behind the scenes, on the Eagles personnel, Autumn Lockwood became the first black woman to coach in the Super Bowl. She became the assistant sports performance coach for Philadelphia last summer. 
Before coming to Philadelphia she worked as coordinator of sports performance at the University of Houston. She earned her bachelor's degree at University of Arizona where she also played soccer. She earned her master's degree in sports management from East Tennessee University and worked with the men's and women's basketball teams.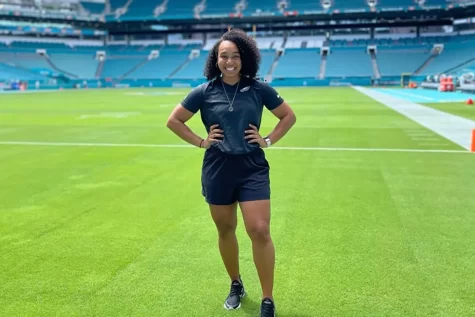 Lockwood wasn't the only woman who made shock waves through the Super Bowl. According to The Gist, Jalen Hurts' agent Nicole Lynn was the first black woman to represent an NFL quarterback that was playing in the Super Bowl. 
Lynn received her bachelor's degree and Doctor of Law in Business Management from University of Oklahoma. She became the president of football operations for Klutch Sports Group in 2021. 
According to her agency's website, Lynn gained her first client at 26 and has since then represented many NFL players, an ESPY nominated softball player and a ballerina. 
Representation is important to see for many young black women and men to see in sports and other professions. The Super Bowl exceeded expectations of representation. 
Leave a Comment