Just Keep Swimming
A Penn State employee had the swim of a lifetime to benefit THON.  Holly Maitland McKenna swam 46 hours from Wednesday January 12 8pm to Friday January 14 6pm. 
The Swim For A Cure is an event and organization provided by The Dance Marathon Alumni Interest Group (DMAIG).  The event raises money as people donate money to keep her swimming, and this money is donated to THON to help support children with cancer.
Holly Maitland-McKenna is a natural when it comes to swimming, but was unaware about THON until coming to PSH. "When we moved to this area I met some students and they told me about it and I saw it as a great charity and wanted to help out," McKenna stated, and she did find a way to help, through an unlikely outlet. "Swimming is comfortable for me, it comes easy," she explained, "so what better way to do it for lots and lots of hours."                                                                                                                            
Preparing for the long swim takes a lot of hard work, energy, time and dedication. "It takes a lot of patience," Makenna says, "you have highs and lows, sometimes you just have to get up out of the pool and walk around and stretch out. You have to take breaks to eat, drink." McKenna took a passion and used it as fuel to make an event "For The Kids." "It's a great charity so we can help the kids," McKenna stated. 
This year marked the 10th year for the Swim For A Cure at Penn State Harrisburg, and the event raised $16,184.00 and counting.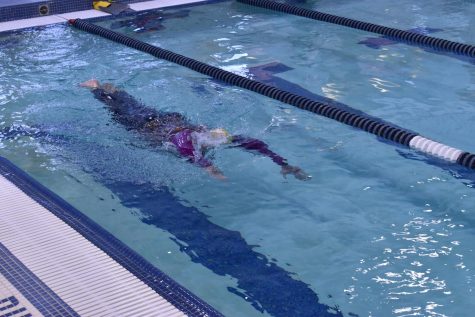 Leave a Comment