Penn State Harrisburg Baseball Defeats No. 21 Shenandoah to Continue Hot Streak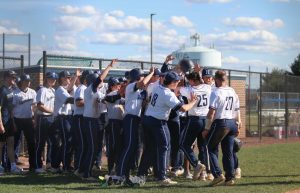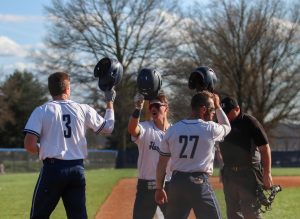 This past Wednesday April 27th, The Penn State Harrisburg Lions defeated 21 ranked Shenandoah by a score of 7-5 to extend their winning streak to an impressive 13 games. This is the second time the Blue & White have overcome a nationally ranked team this season. Their first win came against No. 5 ranked Salisbury, 6-4, back in early March. 
Josh Lantz led the Lion offense against their last non-conference rival of the season, going 4-for-5 at the plate with 3 RBIs to go along with Chase Smith going a perfect 3-for-3 with an RBI of his own. Maddux Ryan also held his own at the plate batting 2-for-4 and a run scored. 
Pitching wise, the Lions held the Hornets to 5 runs and Freshman Riley Blatt tossed the final three innings, allowing zero runs while striking out three to earn him his first save of his collegiate career. 
"We started off the season slow, but we got hot at the right time and most importantly stayed hot." -Pitcher Joel Sneeringer. 
Since the last time the Blue & White's lost a game, which came to a 6-4 defeat to Elizabethtown back on April 5th, they have outscored their opponents 161 to 50 and have improved their team batting average to .300 on the season and have racked up a season total of 41 homeruns in 37 games. 
"Offensively we found more of our groove…" -Head Coach Ryan Bown
On the mound, the Lion's boasted a team best 3.95 ERA while striking out 175 batters in the month of April. Drew Harshbarger is leading the pitching staff with a 2.02 ERA with Senior Zach Gettys close behind with a 2.60 ERA. 
"We need to keep this same energy heading into our final three games and eventually into playoffs." –Pitcher Joel Sneeringer. 
The Lions clinched a playoff berth into the United East Tournament back on April 23rd, with a doubleheader sweep of Lancaster Bible, outscoring the Chargers 23-7 in the two Saturday afternoon games. Chase Smith and Kevin Lehner both led the Lion offense in the first game route, 12-1, with Smith going 3-for-4 with a grand slam and 5 RBI's and Lehner also hitting a grand slam while going 2-for-2 with three walks. Lehner stayed hot and continued to rake into the final game of the doubleheader against Lancaster Bible going 3-for-5 with 2 RBIs to go along with his second homerun of the day to lead the Lions to an 11-6 victory and ultimately a playoff berth. 
With the Blue & White's thunderous 13 game win streak, the Lions have improved their record to 23-14, 16-2 in conference play, and have accomplished an impressive 11-2 home record so far, with a possibility of making it 14-2 with their final series of the season coming against St. Mary's starting this Friday April 29th at home at 3:30 pm.
Leave a Comment