PSH Men and Women's Cross Country Make Statements in Opening Races
The Penn State Harrisburg men's cross country team began their 2022 season at Dickinson College.
Overall the Lions finished fourth at Dickinson's Light Up the Night event on Sept., 1; however, two individuals broke the previous Penn State Harrisburg 5k record which was 18:02.9, set in 2018. Out of the Harrisburg crew, Mohammad Sakayl crossed the finish line first finishing 33rd overall out of 56 with a time of 17:45.0. Samuel Bishop finished right behind him with a time of 17:58.8. Their teammate, Jonathan Carnesi finished 36th overall with a time of 18:13.1. Kaidan Braught finished 41st and Luke Culver finished 43rd. Additional Lions that ran in the event include Nic Spohn, Mikkail Sanu, Dillan Oshell, and Nathaniel Francis.
The women's cross country team opened their season at Lebanon Valley College in the Dutchman Invitational on Saturday, Sept. 10. Sophomore, Tatyana Gibson led the way in the 5k race for the Lions by finishing 94th out of 184 runners with a time of 22:35.80. First-year Madison Parks finished second out of the group for Penn State Harrisburg, finishing 142nd with a time of 25:49.20. Additional runners for the Lady Lions included Dessire Amaya, Abigail Marquardt, and Leah Gray.
After completing her first collegiate race with the Lions, Madison felt a wave of emotions. "I couldn't help but feel so excited and accomplished." She gives credit to her teammates as well. "We all support each other, even if we're already out of breath. We push each other to the limit which produces our amazing outcomes." When it comes to the coaching staff, Madison has a "high appreciation" for all the hard work they put in to help them run at their best. Moving forward, Madison is looking forward to the progress the team will make. "Everyone puts in 110% effort already. I can't imagine how improved we will be by our last meet of the season."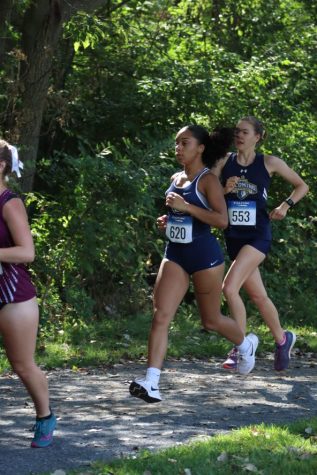 Both the men's and women's cross country team's first conference race is scheduled for Friday, Sept. 16, at Lancaster Bible College for the Charger Invitational.
Leave a Comment