PSH Cross Country Teams Make Statements in September Races
Women's Cross Country Finishes 3rd out of 5 Teams at Charger Invitational
The Women's Cross Country team has competed in three races thus far out of their six invitational schedule.  
On Saturday, Sept. 16, the PSH women's cross country team secured 3rd place out of five teams at Lancaster Bible College's Charger Invitational. Tatyana Gibson finished the 6k race 3rd overall out of 41 runners with a time of 26:39.60. Senior Abigail Marquardt finished 20th overall with a time of 32:54.40. Madison Parks finished right behind Marquardt with a time of 33:56.70. Dessire Amaya finished 23rd with a time of 34:28.20 overall while Leah Gray finished in 38th. 
The Blue & White finished 9th overall at the Abington Invitational on Saturday, Sept. 24. Next up on their schedule is the Aubrey Shank Invitational at Gettysburg College on Saturday, October 15. 
The PSH Men's Cross Country Team Races to New Heights
Since the beginning of their season, the men's cross country team has been making a statement. In their very first race at Dickinson College, both Mohammed Sakayl and Samuel Bishop broke the previous PSH 5k record which was 18:02.9. The men finished 13th out of 23 teams at the Dutchmen Invitational and 2nd out of 7 teams at the Charger Invitational. 
On Saturday, Sept. 24 the Blue & White took first place at the Abington Invitational. Freshman Dillan Oschell earned himself a top-10 spot with a time of 29:23.6. Mohammed Sakayl finished 16th overall with a time of 30:20.2. Samuel Bishop completed the race two places behind Sakayl, finishing at 30:23.9. Jon Carnesi and Luke Culver finished in the top-35 out of a total of 119 runners. Lastly, Steven Painter and Nic Spohn completed the race for the Lions. 
Next up, the PSH Lions will be racing on Saturday, Oct. 15 at the Aubrey Shank Invitational in Gettysburg, PA. 
To stay up to date with Penn State Harrisburg Athletics, visit their website at https://athletics.hbg.psu.edu/landing/index or follow them on all social media platforms @pshbgathletics.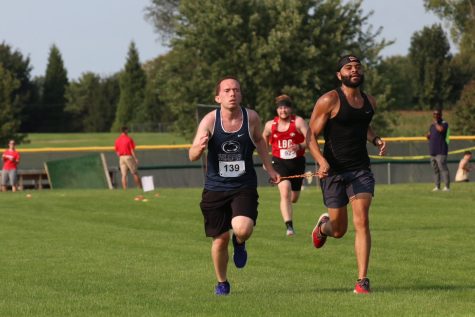 Leave a Comment