PSH Men's Soccer Earns a Win on the Road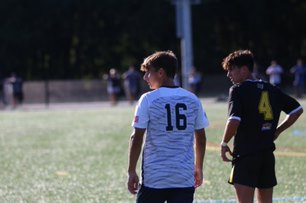 On Saturday, Sept. 24 the PSH men's soccer team traveled to Alfred, New York to compete against non-conference opponent, Alfred State. 
On Saturday evening, the Lions, (4-2-3, 1-0-1 United East), battled to earn themselves a 2-1 win over the Pioneers. Sophomore Tyler Madairy was the first individual to put the Lions on the board in the first half. In the 20th-minute, Madairy received a pass from DI transfer Ethan Cortes and buried the ball in the back of the net. Just nine minutes later, Katim Nije scored a goal off a pass from Marc Rogers to give Harrisburg a 2-0 lead. However, with just five minutes left in the first half, Alfred State responded to make the score 2-1. It was not enough as the Lions walked away with their fourth win of the season. 
The men's soccer team will host Neumann University on Wednesday, Sept. 28, before traveling to fellow satellite campus, Penn State Berks. 
To keep up-to-date with the men's soccer team, follow them on all social media platforms @pshbgmsoc. 
Leave a Comment