Volleyball Earned Themselves Their 9th Win Of the Season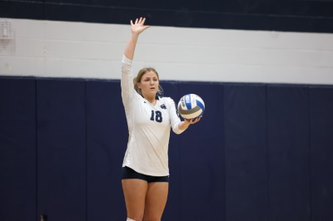 The PSH volleyball team traveled to Marywood University on Tuesday, Sept. 27, and earned themselves a 3-1 win against their non-conference opponent. The first set went back-and-forth until Alyssa Snyder tallied a kill to allow Emmaline Stevens to put the Lions up 20-13. A pair of back-to-back aces added to the Blue & White's lead. The Lions took away the first set with a score of 25-16. 
The second set went in the Pacers favor. However, the Lions did not make it easy for them as the score was 24-26. PSH volleyball took back the lead of the match after the third set. After fighting back from a seven point deficit, the Lions ultimately took the win with a score of 30-28. Ultimately, the match came down to the fourth set. Like the first set, the Lions defeated the Pacers with a score of 25-16. 
Anna Ruff and Tiniira Tubo both produced 13 kills out of 26 attempts. Additionally, Anna Ruff also earned herself 8 blocks. Olivia Koicuba was credited with a total of 19 digs on the night. 
The Blue & White will travel to Alvernia University on Thursday, Sept. 29, before hosting fellow Penn State satellite campus, Penn State Altoona on Thursday, Oct. 6. 
To stay up-to-date with the volleyball team, follow them on Instagram @pshbgwvball. 
Leave a Comment