PSH Men's Soccer Earns Third Consecutive Conference Championship Title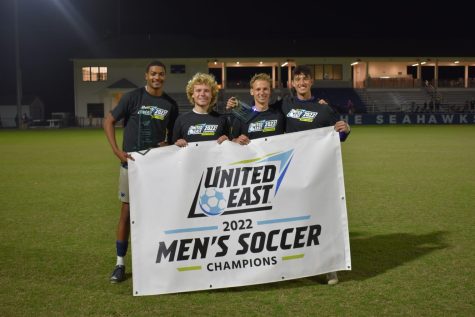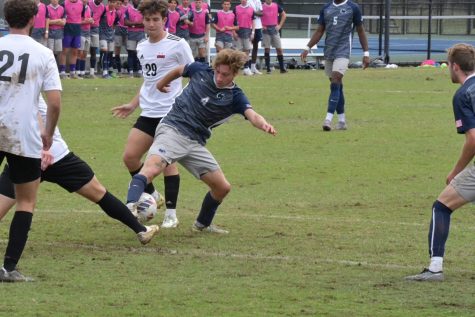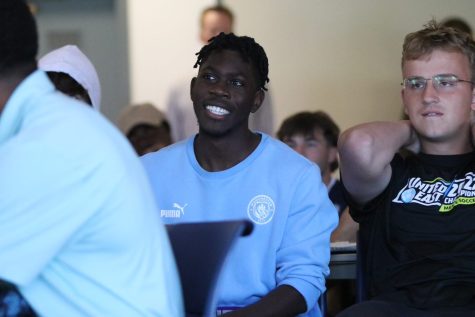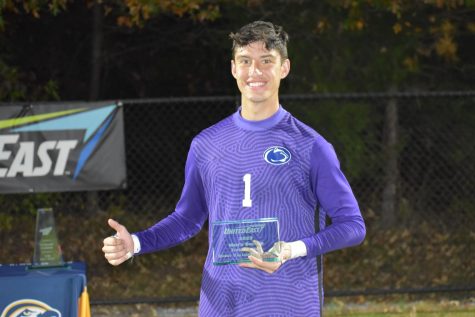 The PSH men's soccer team is competing in the NCAA DIII National Tournament for the third year in a row. After winning the United East Conference Championship on Saturday, Nov. 5, the Lions will be traveling to the campus of No. 18 Mary Washington to compete against Ohio Wesleyan on Saturday, Nov. 12.
How It Happened
 On Friday, Nov. 4, No. 2 Penn State Harrisburg traveled to United East Conference Tournament host, St. Mary's College of Maryland to compete against No. 3 Lancaster Bible College. The Lions shutout their regionally-ranked opponent 3-0 in the semi-final match. It didn't take the Blue & White long to get on the board. In just the 17th minute, Kobe Harris put the Lions on the board after finishing a lofted ball from teammate Daryl Lucas. The Lions struck again right before the halftime mark when Anson Portzline scored off a pass from Ben Stuckert. In the 58th minute, it was Daryl Lucas again, who added an insurance goal for the Lions. Marc Rodgers found Lucas off of a corner kick and to the Lions delight, the score was 3-0. With this win, the Lions earned themselves another 90 against the hosts of the tournament.
The championship game was an exhilarating one as the Lions defeated the Seahawks in penalty kicks. During regulation, it was the top-seed that got on the board first in the 27th minute. However, just four minutes later, the Lions responded when Daniel Rossiter finished one of Rodgers' corner kicks. In the second half, it was the Lions on the board first. PSH scored in the 73rd minute taking the lead 2-1. Again, just four minutes later, the Seahawks responded making it 2-2. Despite many opportunities from both teams, neither could find the finishing touch in both regulation and overtime causing them to go into a PK shootout. Thanks to Rodgers, Rossiter, and Luke Myers, the Lions were ahead. To the Lions' delight, Goalkeeper Esteban Leon made a diving save to keep the score 3-1. It came down to Ben Stuckert's penalty kick. Although there was an immense amount of pressure, Stuckert remained composed and buried his PK in the back of the net. With this, the Lions stormed the field as they just won their third consecutive conference title.
With this victory, the Lions received an automatic bid to the DIII National Tournament.  on Saturday, Nov. 12. The men traveled to Mary Washington and competed against Ohio Wesleyan.  Again, it was an exciting game. With just a minute left in regulation and down 1-0, Marc Rodgers scored a penalty kick to send the game into overtime. Unfortunately, the Lions fell to Ohio Wesleyan in the 98th minute.
To stay up-to-date with the PSH men's soccer team, follow them on all social media platforms @pshbgmsoc or @pshbgathletics.
Leave a Comment