Bowling Strikes At Finals
As flag football ran out, Intramural Bowling rolled right in.Starting out with ten teams. Through the season while six teams were eliminated, and it came down to the final four teams. Pin Me Down Again, ASMR, Hang Ten and King Pin. 
The championship round began with Pin Me Down Again vs. ASMR and Hang Ten vs. King Pin. In the first round of championships Pin Me Down Again finished with a total of 466 points defeating ASMR that finished with a total of 180 points. After a nearly close battle Hang Ten finished with a total of 435 points defeating King Pin with a total of 408 points. 
It then came down to the final championship round. Hang Ten team captain  Jennifer Russell was excited for the win and ready for the final face off. 
"We are really happy we won this round, we are ready to advance to championships and we as a team are ready for this." Russell stated. 
The final championship round feature Pin Me Down Again vs. Hang Ten. While both teams were geared up to go, there was a minor setback for the Pin Me Down Again Team. Bowler Alexander Shaer was suffering from a fractured right hand. 
"It hurts to bowl with the right hand so I have to bowl with the left and I have never done this before, we're going to shoot for 100 more than that we'll be happy." Shaer stated. 
The results came quite close, but in the end Pin Me Down Again defeated Hang Ten with a total of 506 points from 442 points. Pin Me Down Again came out on top and were the winners of the Intramural Bowling Season. Team Captain Bryan Spivey was excited for his team's victory. 
"It's been a long season, three of our team members were here on the winning team last year. We have had some struggles, one of our team members has a messed up hand and I'm just not one of the best bowlers, but we like to come together every game and we've had a successful season. I believe we went undefeated and it feels good to be back and win again." Spivey stated. 
Intramural bowling at Penn State Harrisburg is advised by Darryl Bower and he was satisfied with the results of the season.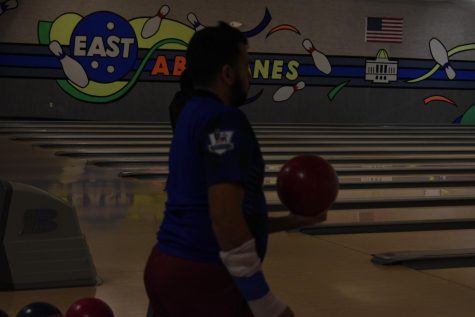 "It was a great season this year. Ten teams participated, the league got moved from the spring to the fall so we had a very good turnout. I was pleased with how everything went, had a very exciting championship match and went very good this season." Bower stated.
Leave a Comment