Softball Coming in Hot
Softball continues to shine in many ways heading into the middle of the 2023 spring campaign. After coming off of a successful campaign at Myrtle Beach back in March, the softball team has made shockwaves through the conference and even against non-conference foes. 
The Lions split with non-conference foes Juniata, Elizabethtown, and Widner so far this season. However, they remain undefeated in conference with huge wins over Penn State Abington and Wells. 
During the second game against Elizabethtown on March 21, Madelyn Lehigh and Leah Macaluso led the way in home runs by knocking two each out of the park. Meanwhile Kierstyn Smith only allowed three runs.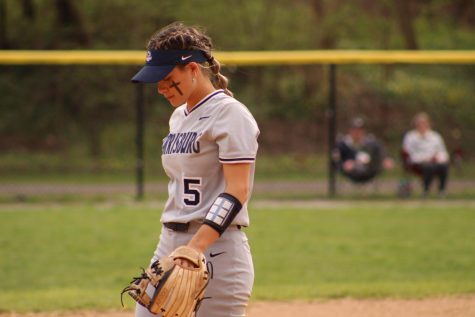 Against Penn State Abington on March 29, it was Rylee Martinez who led the way in home runs knocking another two out of the park and Emma Einarson leading the way in RBI. 
As a team, they were able to hold Wells scoreless on April 2 during their conference doubleheader by winning 14-0 the first game and 21-0 in the second game. Macaluso led the team in RBI during the first game and Kierstyn Smith led in the second game. 
"We're coming together  as a team despite [having] newcomers," junior outfielder Alexus Brown said, "We are confident in our abilities on the plate and the field." Brown also noted that the team is focusing on a positive mentality and bringing each other up in times of adversity. 
Widener was a battle but they held their own in the field. Lehigh was able to knock three pitches out of Widener stadium in the first win over the wildcats. Lauren Hess was able to knock two pitches down of her own come the second game but Widener was able to hold the Lions during a late surge to tie the game in the fifth inning. 
"We're doing really well, I'm proud of how we are doing," senior outfielder Krys Moore said. 
Up next for the Lions return to conference play as they will host Lancaster Bible at home on April 7 and Gallaudet on April 8. 
To keep up with Penn State Harrisburg athletics go to athletics.hbg.psu.edu and follow their Instagram, Twitter and Facebook @pshbgathletics.
Leave a Comment