Matt Joyce's Journey: The Career Studies Program
Elise Joyce didn't know what to expect when she gave birth to a baby boy with Down Syndrome.
"He [the geneticist] didn't even wait for my husband to be in the room," Elise Joyce explained. "I was alone getting the news. I cried. A nurse from my church heard me and came in, held my hand and prayed with me. I think God heard. Matt is truly a gift from God."
Elise Joyce's gift, her son Matt, is one of a number of students who have graduated from Penn State Harrisburg's Career Studies Program.
The Career Studies Program has produced a post-secondary initiative and career-enhancing experience to help those with intellectual disabilities in their future endeavors.
The two-year, four-semester program embraces several core themes and principles such as focusing on ability rather than disability, independence, and sense of belonging.
Among the 116 colleges and universities in Pennsylvania, only 15 of them, not including the Career Studies Program, have opportunities for those that have intellectual disabilities, according to the PA Inclusive Higher Education Consortium (PIHEC). Three of the 15 have started within just the past two years alone.
Penn State Harrisburg, along with 11 other colleges and universities in Pennsylvania, have established these programs through the D.R.E.A.M. Partnership.
"The Mission of the D.R.E.A.M. Partnership is to develop scholarship and post-secondary educational opportunities which lead to independent living and employment for students with intellectual disabilities in Pennsylvania," the organization's website states.
There are 11 students currently enrolled in the program at Penn State Harrisburg. The students range from ages 18-25 and there is no requirement on high school graduation in order to apply.
In addition to their coursework, the students are also required to have involvement in an array of campus activities as well as some kind of employment for 20-30 hours a week.
Matt Joyce's involvement on campus mostly consisted of him being a manager for the Penn State Harrisburg's men's basketball team. Although he graduated in the spring of 2020, Matt Joyce is still dedicating his time to the men's basketball program.
For the longest time, going to college didn't seem like a plausible option for Matt. However, that changed when his parents found out about the Career Studies Program at Penn State Harrisburg.
Life In The Classroom
"When Matt was a kid we never wanted to set limits on what he could achieve," Elise Joyce stated, "but, to be perfectly honest, I didn't envision him having the opportunity to attend college."
Elise Joyce explained that parents of those with intellectual disabilities don't normally get the chance to dream for the future, they are trained to concentrate on the "here and now."
Matt's high school life skills teacher thought the Career Studies Program at Penn State Harrisburg would be a perfect fit for him.
Before graduating from Lower Dauphin, Matt and his parents got the chance to go and observe the Career Studies class.
Elise and Joe Joyce both agreed that attending college at Penn State Harrisburg was the right choice for Matt. "And, of course," Elise Joyce explained, "Matt thought so too!"
Once again, Matt had little to no issues transitioning to the college environment.
While Matt attended school at Penn State Harrisburg, he also worked part-time for the custodial staff at Lower Dauphin.
For those in the Career Studies          program, working part-time is encouraged to get job experience while getting an education.
The program at Penn State Harrisburg has given many things to their students and their families.
Elise Joyce expressed that "The Career Studies Program has given these students the basics that all parents want for their children: a college experience that educates them, opens their minds to new ideas, prepares them for the workplace, making friendships, and shapes them to be good citizens in their communities."
For Matt and other students that have gone through and are currently in the
program, there is new-found confidence that comes with going to college.
The Career Studies Program, and others like it, offers something that not every typical
person gets to experience, let alone ones with intellectual disabilities.
"Career Studies offered the opportunity
to have our son with Down Syndrome continue to learn, grow and thrive in a college atmosphere," Elise Joyce noted.
She continued, "The benefits are priceless. Throughout life Matt has had to work harder than others to achieve what many take for granted. Matt is proud and gained confidence from his time in college."
Matt Joyce is not the only one who has benefitted from a post-secondary education, and the need and desire for others like Matt to go to college is continuing to grow.
Over 5,500 students with intellectual disabilities are attending college in the United States, according to Think College.
That is an encouraging number for those like Matt and their families as well.
"Now instead of looking at someone with Down Syndrome and thinking about what they can't do – they think about what they can do. That's pretty powerful," Elise Joyce expressed.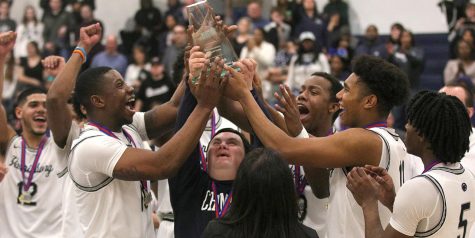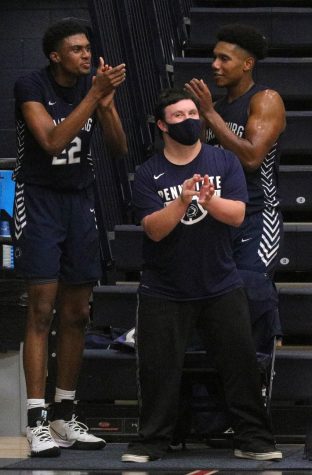 Life On The Court
Coach Don Friday wasn't sure how Matt Joyce would adapt to being a manager of the men's basketball team at Penn State Harrisburg, but he was pleasantly surprised, to say the least.
"When we were called about Matt about three and a half years ago, I had no idea that it would grow and blossom into where it is now. He's a big part of our program."
Friday has been the head coach of Penn State Harrisburg's men's basketball team since 2013. He has a distinguished reputation through basketball in Pennsylvania ranging from Lebanon Valley College and Bucknell University, to Lycoming College and to Division I Saint Francis.
Friday's 31-year coaching experience has given him the opportunity to touch many people's lives, as well as having many people touch his own.
One of those people who has had a huge impact on Coach Friday's life just happens to be Matt Joyce.
Matt Joyce joined the men's basketball team as their manager in 2017.
"When Matt first started off, he was very shy with me. So I would talk to him and his response would be a very timid 'yes,' and his father would say 'volume' and then Matt would say 'yes' louder," Coach Friday explained.
Matt Joyce has never missed a practice unless it was for his job at the local elementary school, or to go to the Tim Tebow Ball in Arizona, or to be on a family vacation that centered on trying to give back to the down syndrome community.
Coach Friday said that a big reason why Matt can be so involved with the men's basketball program is because of his parents.
For away games, Joe and Elise Joyce will drop their son off at campus for the bus departure. They will then follow the bus up to the game, support the team, and follow the bus back to Penn State Harrisburg so Matt can truly be with the team.
"A lot of parents go to see their children play in a game, Mr. and Mrs. Joyce will go to see their son involved. So that part of it is just amazing. And it goes back to the support system," Coach Friday said.
Friday explained that when you combine the avenue for inclusion through the Career Studies Program and two parents who are "just ultra-supportive, we sit here and marvel at what a great experience this is for Matt to be a part of our program."
"But I will say this," Coach Friday continued, "it's been a greater experience for us to be involved with Matt. Now I didn't understand that when this first began, but I do now."
Coach Friday added, "I'll be the first one to say that we don't do this to check off a box that we are doing something to show that we create inclusion or diversity, or equity – no, we are doing this because it's the right thing to do."
Matt Joyce has become a part of the Penn State Harrisburg men's basketball family in more ways than one.
When the team won the 2020 North Eastern Athletic Conference (NEAC) Championship, the players pushed Matt to the front to go up and accept the trophy.
The men's basketball team has created a nickname for Matt: "Matty Ice."
One of the best moments Coach Friday had with Matt was after a very intense practice one night. In the eyes of Friday, nothing was going right.
"All of the sudden Matt walks over to the center circle and puts his head on my chest and gives me a hug," Friday explained. "Something like that just melts you because he's seeing it from a different perspective."
At the end of the day, Matt takes great pride in the men's basketball program and he strives to be a role model for other men and women with Downs.
"He wants to be somebody who stands out and shows people in similar situations that you can be involved and you can be important and you can be fulfilled and you can have 100% normalcy in safe spaces with people who understand and are willing to make you feel welcome," Friday stated.
Friday ended with this statement: "There's other ways to spread wealth. I'm not a millionaire, I'm not a billionaire. I can't just give money to charity and all those things, but what I can do is create opportunities… In that way, I feel pretty rich."