A successful return to play for men's soccer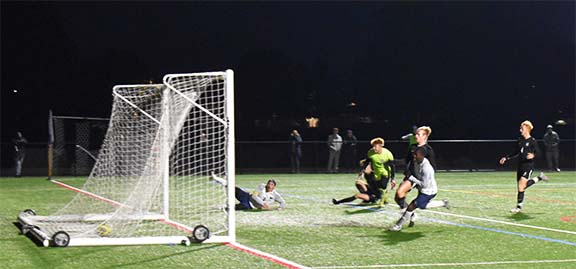 With a successful 2021 season in the books, the men's soccer team roar back into championship-contending form at Penn State Harrisburg after one year without a season.
The last time the Lions played was November 2019 when they lost to Franklin & Marshall in the first round of the NCAA Tournament.
Since then, not a single game was played throughout 2020 due to the COVID-19 pandemic having an effect on all intercollegiate athletics as Penn State Harrisburg.
As 2021 rolled around and life seemed to go back to normal, so did the opportunity for an active season for fall sports.
The one thing that changed for the Lions was their new venue.  A switch from playing on natural grass near the off-campus housing to artificial turf next to the Educational Activities Building.
Under head coach Daniel Krzyzanowicz, the team was off to a good start for the 2021 season with a couple of shutouts against Clarks Summit and Rosemont at home.
"Our coaching staff has put together a great plan of attack for every game and Coach K left it up to us and trusts us to come out and execute it," said Joey Aman.
Leading the team this season with 12 goals and 52 shots, Aman believed the Lions were readily focused going into the season.
The toughest test came when the Lions faced nearby-rival Franklin & Marshall, resulting in a 1-0 loss in double overtime.
"The toughest part of the season was when we got downed by F&M," said goalkeeper Nicholas Guglielmetti, "and we had to lock in, come back and just realize that that was not the end of the road."
The Harrisburg Lions would soon bounce back to their winning ways entering conference play in the newly-renamed United East Conference.
"Stay confident, play to the best of our ability, know what we can do and respect everybody but fear no one," said Aman.
Netting eight wins in conference play with 41 goals, the Lions solidified themselves in winning fashion.
Guglielmetti proved he could keep a strong defense on toe recording 36 saves this season.
"Stay focused, stay on the same track," said Guglielmetti.  "We just need to keep it up and make sure everyone stays locked in and the focus is not lost."
Aside from two other non-conference wins and a game-finishing tie against Dickinson, the highlight of their regular season came when they played No. 2 Messiah in late October.
The team held off Messiah, ending their hopes of an undefeated season with a 1-0 upset in the regular season finale.
Heading into the United East tournament on home turf, the Lions were poised to go back-to-back in conference championships.
Shutting out Penn State Abington 2-0 in the semifinal, the Lions went on to face Lancaster Bible in the championship game, winning back-to-back United East championships 3-1.
Sebastian Krysztofowicz was named tournament MVP with his late-game scoring performance in both games.
"We go so hard and when the games come, it seems so easy to us," said Krysztofowicz. "I feel like when we train hard, we get better and better."
With the conference championship and ranked 20th in the nation, the Lions solidified themselves into the NCAA Division III tournament.
"We got a taste of it (two years ago)," Aman said. "Everyone's ready to come in with more composure and more experience."
Despite losing in the first round to Johns Hopkins 2-1, the Harrisburg Lions finished the 2021 season on a high note with 15 wins and setting their sights on next year moving forward.