Penn State's President-Elect Neeli Bendapudi Visits Penn State Harrisburg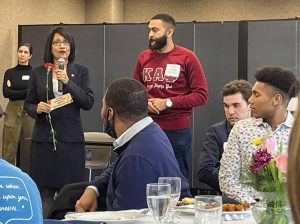 President-Elect ​​Neeli Bendapudi visited Penn State Harrisburg on March 31st, meeting with students, faculty, and staff as part of her tour of Penn State's campuses.
Bendapudi met with Penn State Harrisburg faculty in the morning at the Kulkarni Theatre to discuss her upcoming role. Afterwards, she came to the Olmsted building to meet with leaders at Penn State Harrisburg before getting a tour of the campus' most notable locations.
"I was so honored to get the opportunity to give Dr. Bendapudi a tour of our campus!" said Emily Garbarino, one of Penn State's Lion Ambassadors. "She was so sweet and really took the time to get to know each individual person she spoke to. Overall, Dr. Bendapudi seems very student-focused and was very interested in learning more about us as students and how we feel about our campus and school."
After her tour of campus, Bendapudi was able to meet with select students at an invitation-only lunch. She was joined by her husband, Venkat Bendapudi, her Vice President for all Penn State campuses, Kelly Austin, and her Chief of Staff, Micheal Wade Smith, among others. Harrisburg staff, such as Senior Director of Student Affairs, Todd Clark, and Assistant Director of Diversity, Equity, and Inclusion, Evan Williams, were also on hand for the event.
A display of Fall 2021's Basic Photography class's Narrative project was on display during the student meeting. These pictures are now on display in the Student Enrichment Center in the hallway between the Kulkarni Theatre and the bookstore.
While meeting with students, President-Elect Bendapudi was able to share some of her priorities as Penn State's president. She specifically noted that her main priorities are ABC: ensuring Academic preparedness, creating a sense of Belonging, and managing the Cost of studies. She also specified that supporting the commonwealth campuses is a major priority, including Penn State Hershey, the largest hospital in the Penn State Health System.
Second year student and Blue and White Journal's Editor-in-Chief Cayla Garman attended the invitation-only luncheon. "President-Elect Bendapudi was inspiring, engaging, and very energetic- she came across very genuine and I really think she will do great things for the Penn State community."
President-Elect Bendapudi will be assuming the office on May 9th. She will officially be both the first female president as well as the first person of color to assume this position. She has previously served leadership positions for Ohio State and the University of Kansas, as well as serving as the president of the University of Louisville for about 30 years. She also worked as the executive vice president and chief customer officer for Huntington Bank. She currently holds a doctorate in marketing from the University of Kansas.
If you weren't able to meet with Bendapudi during her visit, there's still a chance. She indicated during her student meeting that she plans on doing more tours in the future, noting that she will be visiting Penn State Harrisburg "many, many times."
Leave a Comment