The Return of Pride
Pride at Penn State Harrisburg is making its colorful return to campus after a period of inactivity. 
As the COVID-19 pandemic pushed many Penn State Harrisburg student organizations into periods of dormancy, Pride at Penn State Harrisburg was no exception. The club had been silent since 2020, but now, under the direction of President Jeremy Boorum, and Director of Educational Activities Justine Shultz, Pride is working towards becoming an active presence on campus. As outlined in the organization's constitution, Pride seeks "to provide LGBTQIA+ students with a supportive community and resources on how to navigate their way through what can sometimes be a harsh society both during and after college. We also seek to educate our allies about various issues LGBTQIA+ people face in the United States in order to build a more accepting society." Additionally, the club aims to "improve the visibility, strength, and support of Penn State Harrisburg's LGBTQIA+ community in recognition of the marginalization and oppression they face" and "work with the surrounding community to marginalize discrimination." 
At a Pride Interest Meeting on Thursday, February 24, in the Oliver LaGrone Cultural Arts Center, prospective members came together for a social hour between LGBTQIA+ and ally students, staff, and faculty. President Boorum, a first year PhD student in American Studies in Penn State Harrisburg's School of Humanities, called his position as Pride President and his role in helping to reactivate the organization "an honor." "Pride organizations are critical for the overall health of any college campus, and indeed our own organization serves a specific mission for the entire Penn State Harrisburg community," he stated. "We want to foster a brave space on our campus. Pride exists as a space to build connections with others who support the LGBTQIA+ community." 
At this public interest meeting, PSH student "A" expressed their gratitude for what Pride at Penn State Harrisburg is doing. "My name is missing from this article. Remaining anonymous keeps me safe. I grew up in a household that made it clear that I would not be supported if I came out, that I would be shunned, kicked out, or ignored," they explained. "That experience with my family made me forget what it meant to be in a space that accepted me for who I was… I spent a good portion of my life feeling so isolated and like there wasn't a future for me, just because of who I loved. Just sitting and observing the turnout for the Pride meeting was earth-shattering for me. I kept having the thought, '"I'm not alone anymore.'" 
A continued, explaining that the lack of familial support has led to them living a double life, one out life for themselves and one closeted life at home. "I never felt like I could come out to my family because if they refused me, I would have nothing. I had no support, no one going through the same thing, I needed something more. That something more can be found in the Pride at Penn State Harrisburg club," they said. Despite their struggles, A is looking to the future for positive change. "I am hopeful for the future of this club and for the future of these LGBTQIA+ youth," they stated. "I am hopeful that someday I will find the strength to be prideful of my sexuality, and I have a feeling that this new community will help me get there." 
Another student, Kaitlyn, whose last name is also omitted for safety reasons, spoke about similar themes of acceptance and gratitude like A. She explained, "My high school had a Gay Straight Alliance club, but I was too scared to go to it because of the type of people at my school, so to me, a Pride club is a place where people of the LGBT community should feel safe and welcomed, even if they aren't anywhere else. It's important for them to know they have support and other people who understand their struggles. So, I'm thankful that Penn State [Harrisburg] is creating this atmosphere with the Pride club." 
Unfortunately, the hardships A and Kaitlyn face due to their identities are all too common in LGBTQIA+ youth. According to analysis from Rutgers University based on more than 90,000 LGBTQIA+ students at 902 institutions, collected between 2015 and 2017, queer and transgender college students experience depression and contemplate suicide at four times the rate of their heterosexual and cisgender peers. The Human Rights Campaign Foundation's 2018 LGBTQ Youth Report found that out of over 12,000 participants, 67% of LGBTQ youth have heard family members express anti-LGBTQ sentiments, and only 26% of LGBTQ youth feel safe from discrimination and bullying in classrooms. Such staggering statistics make Pride organizations all the more critical to the health of a student body on a campus.  
Before the relaunch can be official, the organization is in the process of filling its remaining leadership roles, such as Vice President, Secretary, Director of Social Event Planning, and Director of Marketing and Social Media. Considering these efforts, the organization is looking towards the future. Boorum explains, "Our organization serves to connect community members with critical resources." Besides contributing to diversity, equity, and inclusion initiatives on campus, Pride also seeks to connect Penn State Harrisburg students with other regional resources such as University Park's Center for Sexual and Gender Diversity and Harrisburg's LGBT Center of Central PA. Additionally, during the 2022-2023 academic year, the organization plans to host social events open to the entire campus community.  
If student organizations are not of interest, but one still wants to support the LGBTQIA+ community on campus, consider enrolling in courses related to gender and sexuality. In addition to his presidential duties, Boorum is "dedicated to expanding our queer studies course offerings on campus." In Fall 2022, Boorum will teach an undergraduate seminar, LGBTQ+ Identity, Culture, and The Arts (ART 207N/WMNST 207N). The course will consider the importance of the arts in LGBTQIA+ expression by examining visual art, music, theatre, performance, literature, film, and other art forms. According to LionPATH, the 3-credit interdomain course will meet Mondays, Wednesdays, and Fridays from 10:10am-11:00am. The course fulfills International Cultures (IL), United States Cultures (US), General Education: Arts (GA), and General Education: Social & Behavioral Sciences (GS) requirements. "If you are interested in this course," he states, "I welcome you to enroll and join me next semester." 
Members of the campus community interested in Pride at Penn State Harrisburg or LGBTQ+ Identity, Culture, and The Arts (ART 207N/WMNST 207N) can contact President Jeremy Boorum via email at [email protected] for more information. The organization is planning another social meeting for the end of March.  
Until then, "To any people of the LGBT community, no matter how far into their self-discovery they are," Kaitlyn states, "just know that you are not alone. Every one of us on our journey has faced hardships and we're right there with you." Boorum adds, "In moments which can create feelings of isolation, know that you have a place at Penn State Harrisburg, and we are building that space right now."
https://www.rutgers.edu/news/lgbtq-college-students-experience-depression-suicidal-thoughts-four-times-more-frequently  
https://www.hrc.org/resources/2018-lgbtq-youth-report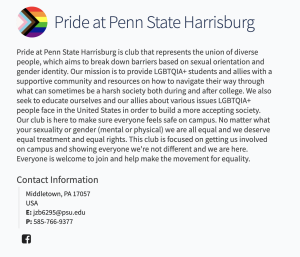 Leave a Comment